Verna's news, writing, and events!
Join Verna's email list for all of the latest news about her writing and events.
Fires of Rapiveshta, A Familiar's Tale, Book Three
Publisher: To be announced.
Publication Date: Coming soon! To be announced.
The Bardess Of Rhulon
Rose Greenleaf dreams of becoming a bard and seeing the world. Her mother sees Rose as a hopeless spinster at seventeen, with abysmal cooking and sewing skills. Rose unknowingly possesses a rare bard magic called the glam rhapsodé, the power to summon magic through music. Fleeing an arranged marriage, Rose makes her way to Tirangel and scrapes a living in a tavern until the Rhulonese Ambassador, Prince Culain Ironheart, hears her sing and employs her as his official Bardess...
Tree of Bones
Runa and Mellypip's newest journey reveals truths behind ancient secrets.
Two curses. A curse of Darkness... A curse of Light...
What she finds reveals a devastating truth.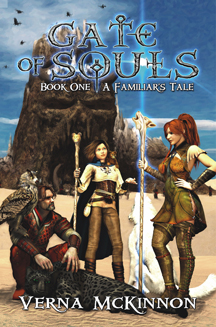 Gate of Souls
Immerse yourself in the world of Runa, Mellypip, Cathal, and Belwyn. The adventure has only just begun.
Book two, Tree of Bones continues the journey of Runa and Mellypip.
The release date for the final book in the trilogy, "Fires of Rapiveshta", will be coming soon.